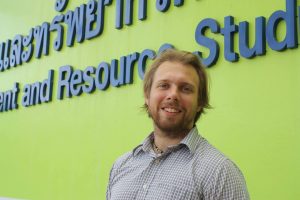 Mr.Nathan Stewart, Student Researcher
Master's Candidate in Planning, University of Toronto
Nathan Stewart is currently conducting with the support of the Faculty of Environment and Resources Studies research in Khon Kaen between May and August 2016. Nathan is completing his Masters degree in Urban Planning, specializing in economic policy and environmental planning. Prior to attending the University of Toronto, Nathan earned a Bachelors degree in International Development and Hispanic Studies from the University of Guelph.
Currently, Nathan's research is focused on using both qualitative and quantitative methods to identify the connections between intra-urban displacement and vulnerability to climate variation in cities experiencing rapid urbanization and economic growth. As part of this project, he is studying the impacts of displacement on the wealth of slum communities in Northeast Thailand.